Almac Discovery
Almac Discovery: An oncology biotech with an extended reach.
Cell cycle regulators, protein drug conjugates, ubiquitin specific proteases and effectors of the epithelial mesenchymal transition (EMT): All part of the oncology, discovery and early development, pipeline of Almac Discovery.
Our powerful competence in small molecule medicinal chemistry and protein and peptide engineering has enabled Almac Discovery to develop state-of- the-art platforms for both:
• the discovery and validation of inhibitors of ubiquitin specific proteases, a large untapped reservoirs of potential therapeutic targets with biology important to a wide range of potential indications and,
• protein drug conjugates using shark derived binders to enhance tumour penetration.
We have partnering opportunities for cell cycle regulation with our Wee-1 inhibitor a novel approach to tackling the cell cycle by driving division of damaged DNA and also a Phase I EMT programme in development for ovarian cancer in the first instance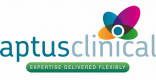 Aptus Clinical Ltd
Aptus Clinical is a specialist UK- based oncology clinical research organisation which helps life science companies to optimise their clinical development strategies and effectively transform promising molecules into valued medicines.
What makes Aptus Clinical different is our flexibility – our clients benefit from our network of highly experienced and skilled experts from all technical disciplines, but only pay for what they need, when they need it. Our scientists have global expertise in all aspects of drug development so no challenge is too great, and being highly professional, they integrate seamlessly into a client organisation. This gives our clients all the benefits of an in-house clinical department, but at 
a significantly lower cost. In addition, our well-established relationships with some of the world's leading experimental cancer centres, access to large patient populations and flexible arrangements to support optimal project delivery are just a few of the benefits to be gained from working with Aptus Clinical.
Whether you need one-off consultancy support, clinical SOP implementation, expert medical or scientific input on a short or long term basis, or a full trial programme, we'd love to hear from you.